About Us - Keane Concrete Polishing
Experts in polished concrete.
About Keane Concrete Polishing
The experienced team from Keane Concrete and Polishing are specialists in all things polished concrete across residential, commercial and the industrial sectors.
Refining the art of polished concrete over decades, the professional crew from Keane Concrete Grinding and Polishing understand how to create beautiful, unique, eco-friendly floors that are easy to maintain and last a lifetime.
In addition, we specialise in surface preparation, floor levelling and the process of epoxy and glue removal.
We have a exceptional understanding of how to polish pre-existing slabs as well as creating bespoke designer floors for new projects.
Our team are at the cutting edge of what is possible when producing polished concrete floors, as well as designer staircases, statement bench tops and stunning honed outdoor finishes.
The Benefits of Polished Concrete
Eco Friendly
Hypoallergenic – impervious to dust, pollens, mould, mildew and bacteria
Chemical free installation and maintenance
Sustainable design
Great thermal conducting properties – easily used with floor heating
Environmentally friendly flooring
Economical
Enhances ambient lighting
Utilises what already exists to create stylish and long lasting, hard wearing and durable flooring
High thermal mass – stays warm in winter and cool in summer
Versatile floor – residential, commercial and industrial
Hard wearing/durable
Low maintenance – easy to clean
Sophisticated aesthetics
Moisture resistant when properly sealed and finished
Abrasion resistant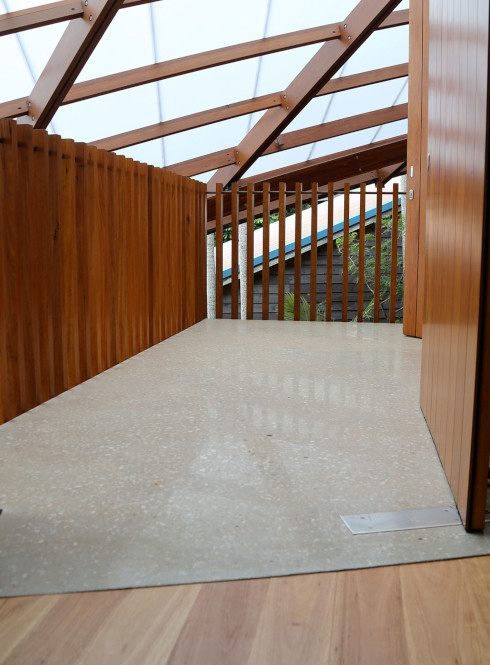 Exterior finishes to match interior polished concrete
Honed concrete for patios, porches, paths, alfresco areas, outdoor entertaining areas
Creates a cohesive 'indoor-outdoor flow' to your build
Excellent non-slip outdoor finish